Dear attendees, we at VEvents take care of your best user experience and we build the platform not to overload you with actions during event. So with us you should really do nothing during event.
Getting personal links
You will receive your personal link via email from us or from Event Organiser. It's your personal link and please, do not share it with anyone. If we are responsible for sending links than you will get 2 emails from us (events@vevents.pro)
24 hours before event start time;
1 hour before event start time.
Here is an example of how an email might look like:

Camera/micro/headphones checkup
Once you open the link you will see 'check up' page where VEvents checks if all your hardware works properly: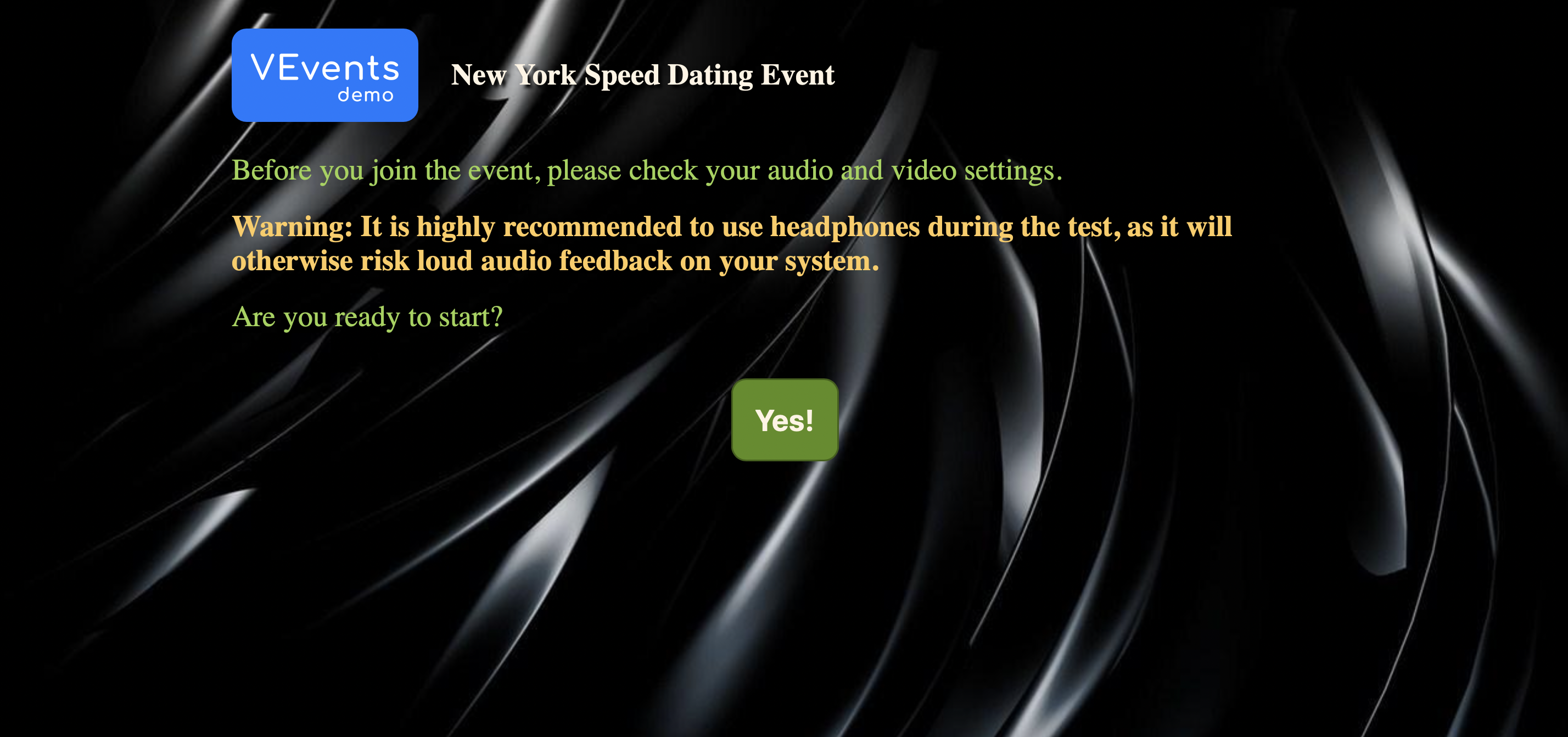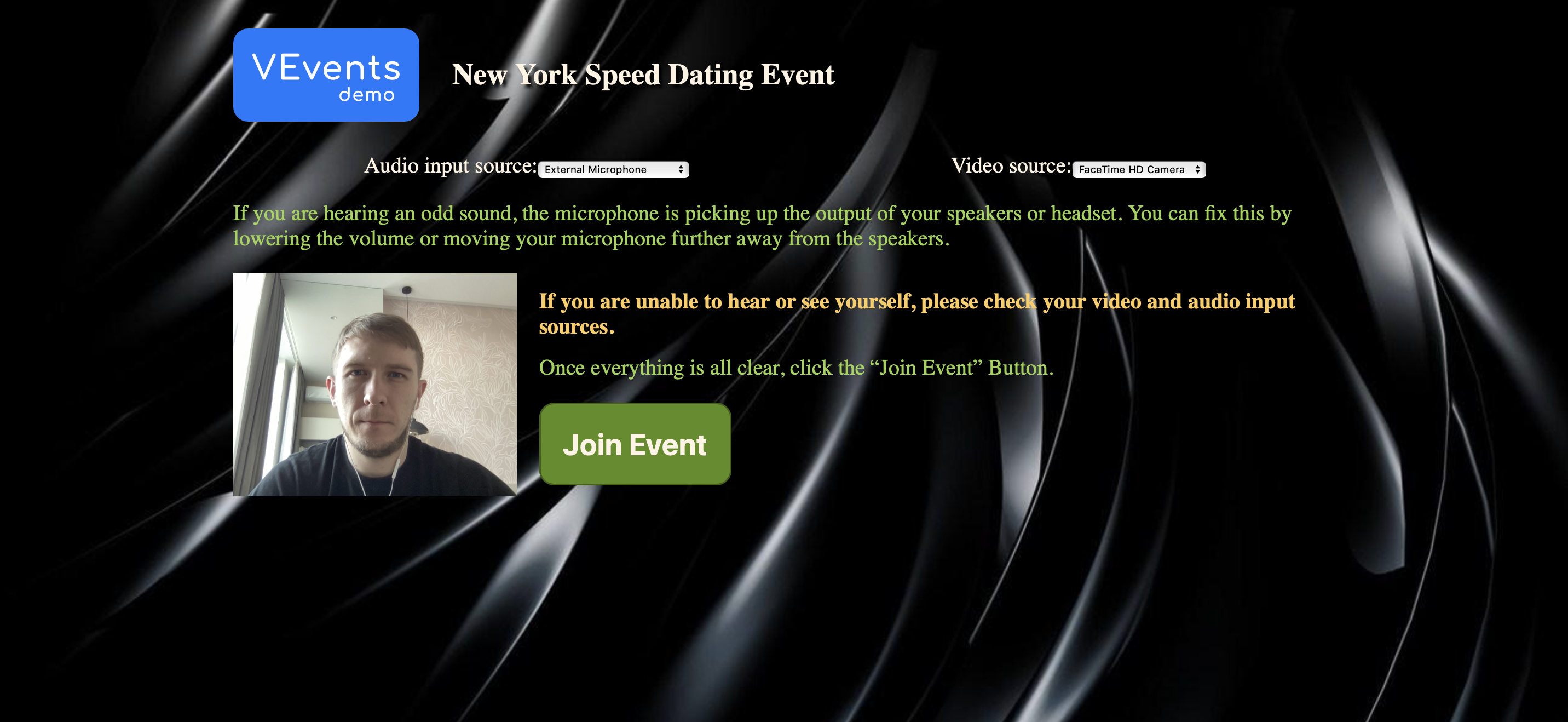 Countdown screen
After you clicked 'Join Event' we start to show 'Countdown screen' so you know when an event starts: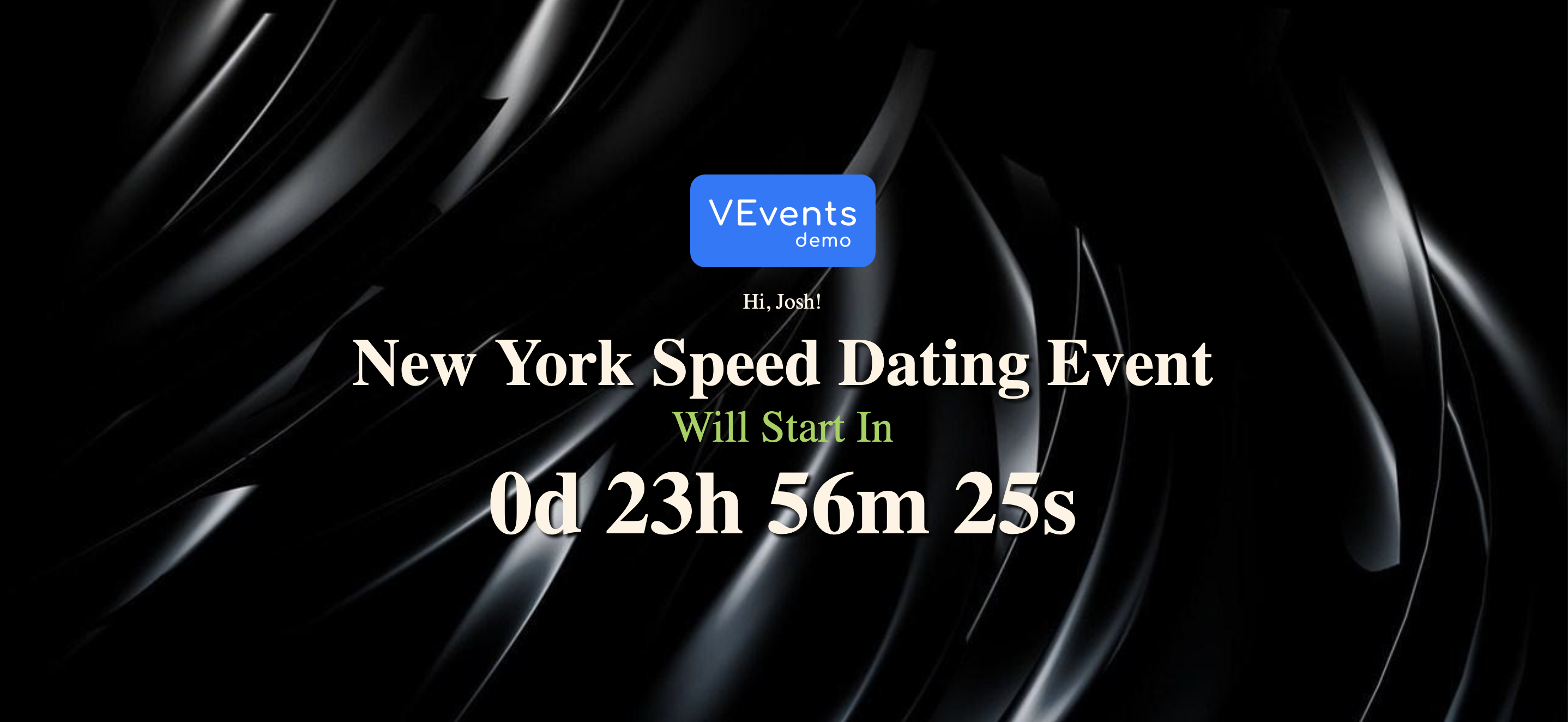 Event start
You should be on 'Countdown screen' and should do nothing! Once countdown goes to 0 -> page reloads automatically -> You will be assigns to someone on 1:1 video conversation. When you are in the 'Round screen' you will see how much time left till the end of the round. And if you like your roommate -> you can click [match] button.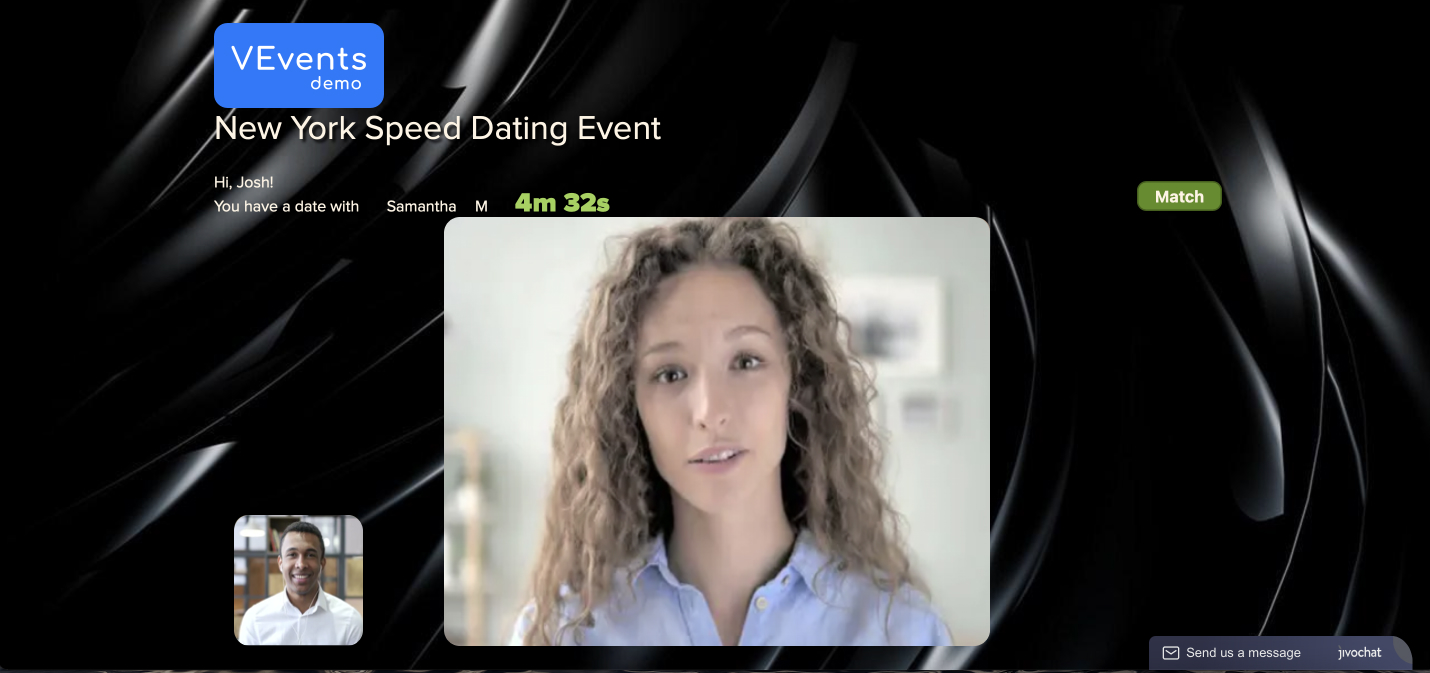 Waiting room
You might be assigned to 'Waiting room' in several cases:
Event has not equal numbers in groups. E.g. 20 males and 10 females. In this case some males will be in a 'Waiting room' while other ones are chatting.
Latecomers. If you joined in the middle of round, like in real life, you need to wait until next round will be started. Do not perform any actions, page will be reloaded automatically and you will be assigned to someone.
Too small group of people joined at the event on the very beginning. By default we start event once at least 10% of attendees are joined. If not – everyone will be waiting for minimum number of attendees in a 'Waiting room'
In all cases please sit tight and relax, when next round starts you will be assigned to someone in the Round. You can ask your organiser if you want to know at which time next round starts but usually it doesn't take more than 10 minutes.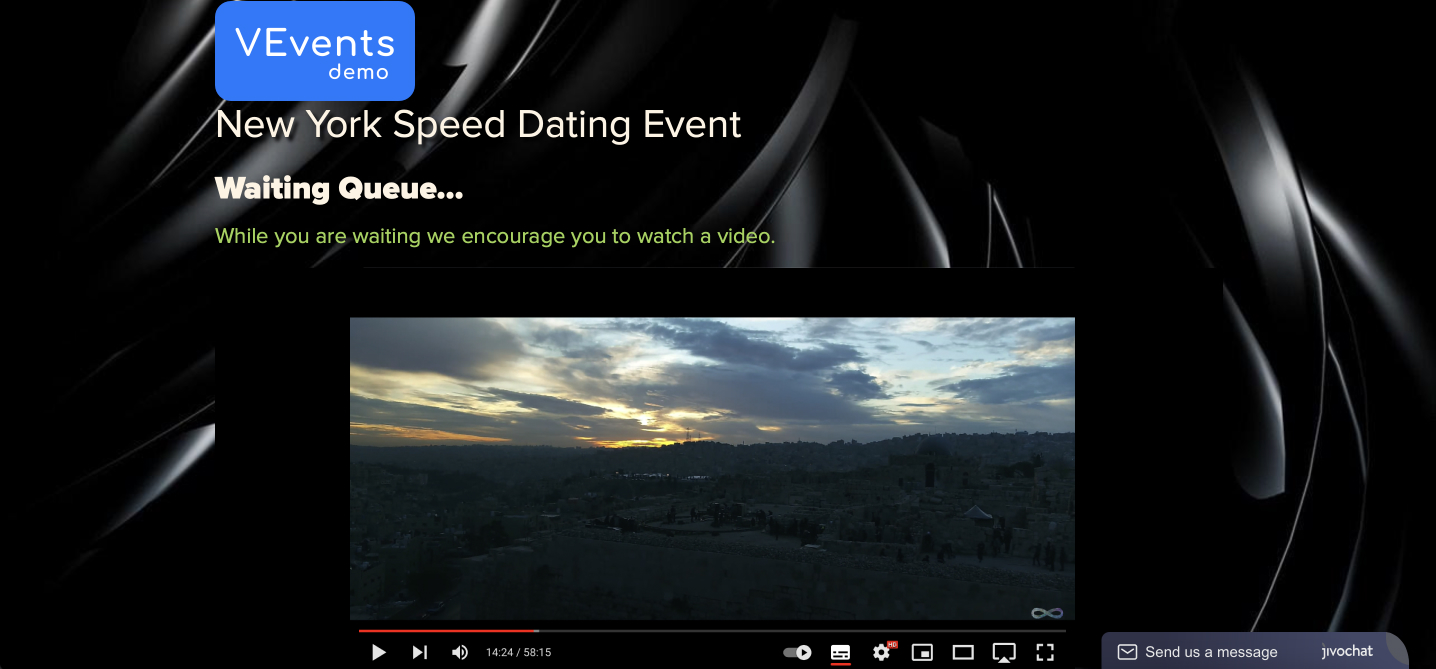 Break
When the Round with someone was finished you will be automatically redirected to Break page where you will see a countdown when next Round will be started automatically.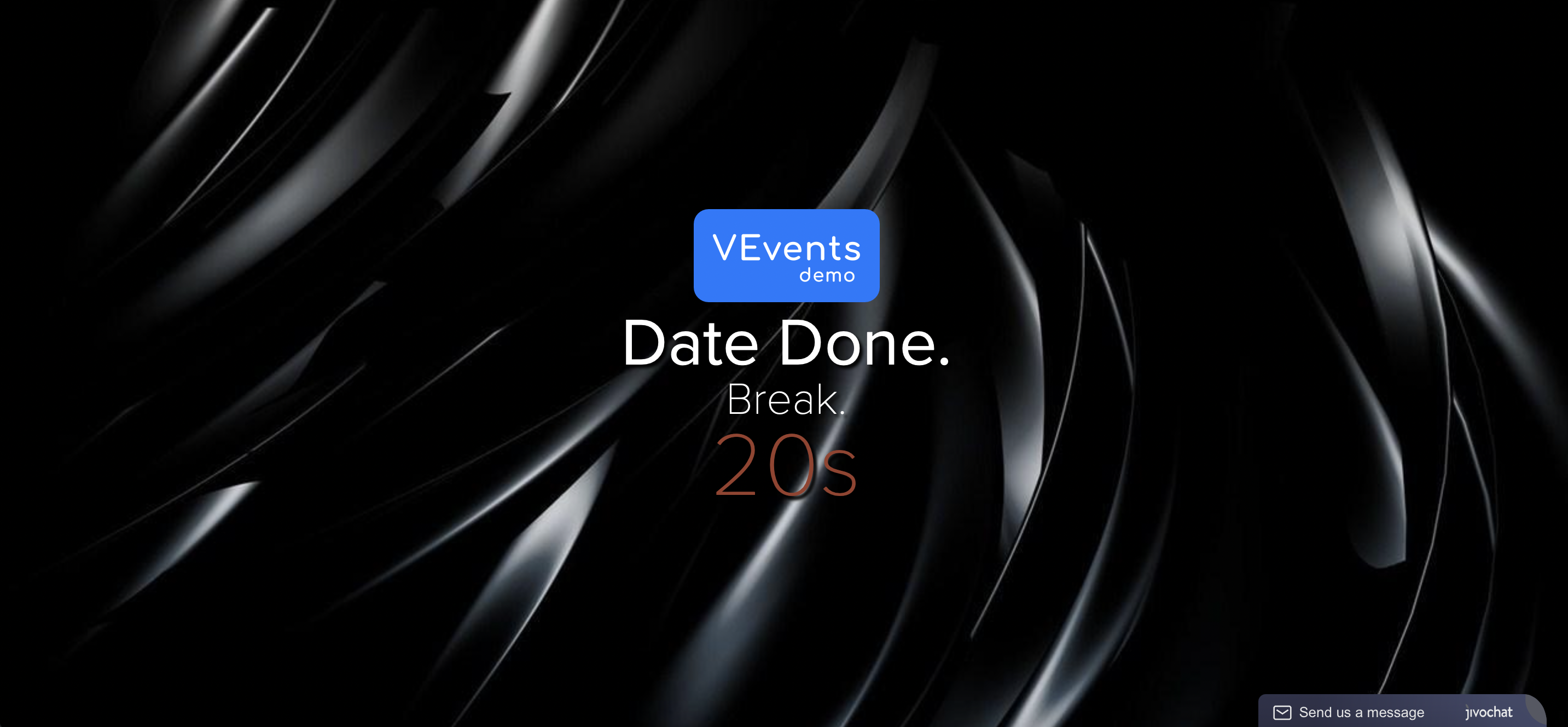 Confirm matches page
After all possible meetings are finished you will see Confirm matches page where you can make final decisions. In case you missed to click Match during round with someone or if you simply changed your opinion. Please make changes if you witsh and click [Confirm].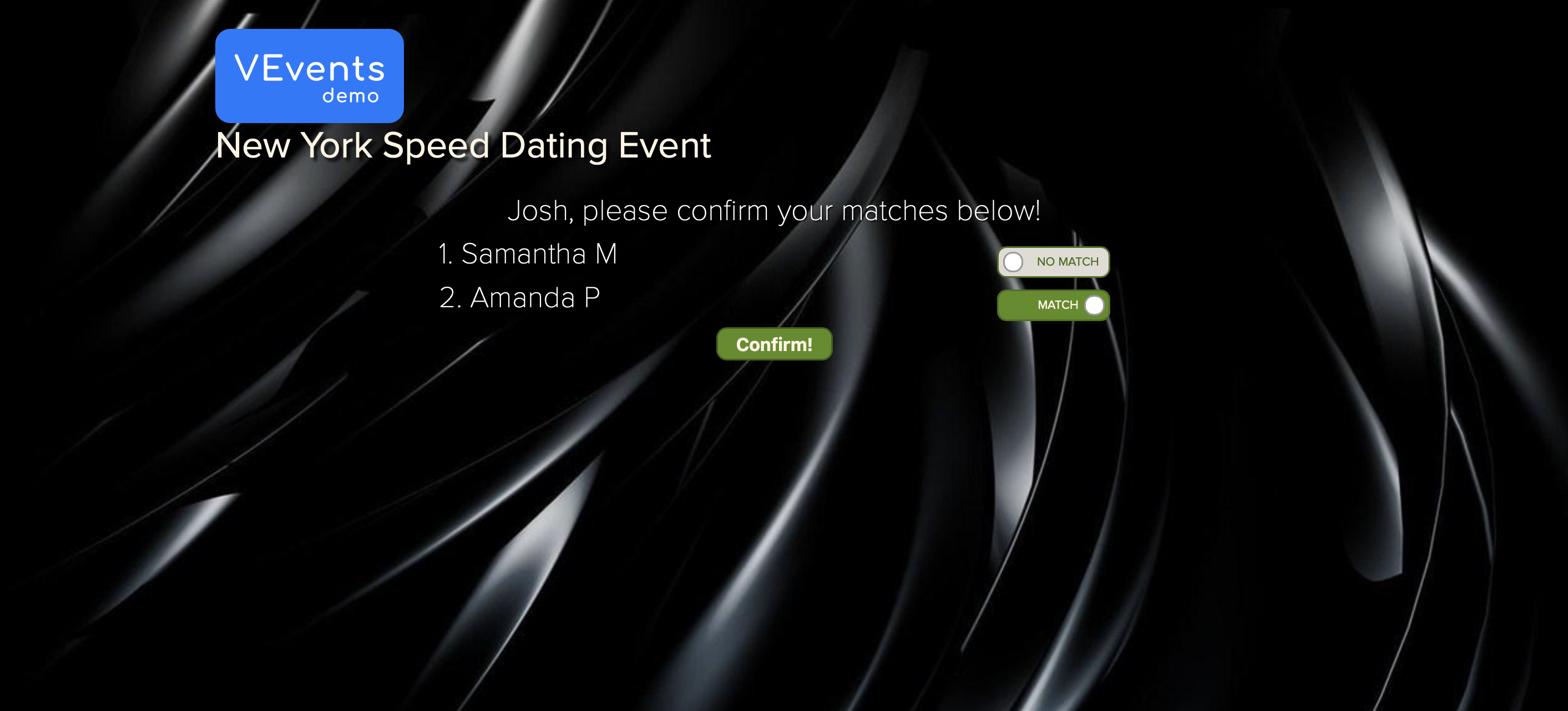 Thank you page
Thank you page will be shown just once you Confirmed your matches. See you again!